Blast victim Kyle Roe's family 'struggle' with care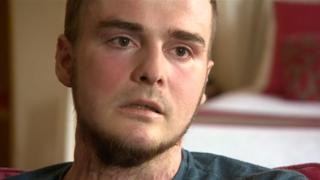 The family of a man badly burnt in a gas explosion a year ago has said it has been a "struggle" to care for him.
Kyle Roe, 20, suffered 87% burns to his body in an explosion in his newly-refurbished flat in Chippenham, Wiltshire, in October last year.
Mr Roe was in an induced coma for seven weeks and has since undergone 13 skin grafts at a burns unit in Swansea.
His mother said the family had received "very little support" and had spent £40,000 in the past year.
Mr Roe had to learn to walk and talk again, and his father had to give up his job to become his carer.
His mother Tracy said: "It's been a struggle. It's been life changing for all of us. Kyle has need a lot of care.
"Mentally is probably the biggest struggle. Kyle feels like his life ended a year ago.
"He has good days and bad days. When he's having a bad day, and had flashbacks, it can be quite difficult because he's so down."
She said £40,000 had been spent on adapting his house for him to be able to live in, and on regular trips to Wales.
Mr Roe said he had been working with a psychologist in Swansea since the explosion.
"The last thing I did to cause the explosion was pulling a light switch so ever since I haven't pulled a light cord," he added.
"It was only two weeks ago that I managed to pull the light switch and see that nothing happened."
The BBC understands a Health and Safety Executive investigation is nearing its conclusion.