Salisbury poppy 'Christmas tree' sparks fierce online debate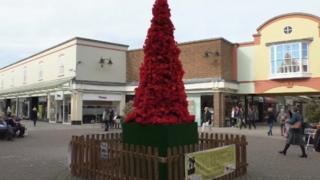 An artwork in a Salisbury shopping centre marking the centenary of World War One has sparked a strong reaction online.
The red tree made of poppies has been criticised in dozens of social media posts as being in poor taste, while others have backed it.
Shopping centre manager Jon Osgood said the work had won positive feedback.
Some of the online comments have asked whether the artwork is an attempt to mix Remembrance Sunday with Christmas.
One tweet described the red tree as an oddity, saying: "Christmas and Remembrance Sunday, together at last in one oddly conceived package."
Another comment described it as "tasteless", while a further tweet said it was "disrespectful".
But the Royal British Legion said it was "grateful to all individuals, as well as any shops, pubs and other commercial enterprises, which choose to show their support for the Armed Forces Community".
Mr Osgood, from the Old George Mall, said the giant poppy tree formed part of the Remembrance Day activities taking place across the city over the coming weeks.
He said: "We've had very positive reactions to the tree across our social media platforms and through feedback from staff."
Other Twitter users were more positive, saying the display was "stunning" and "thought-provoking".