Veteran blasts Devizes 'crime scene' WW1 street art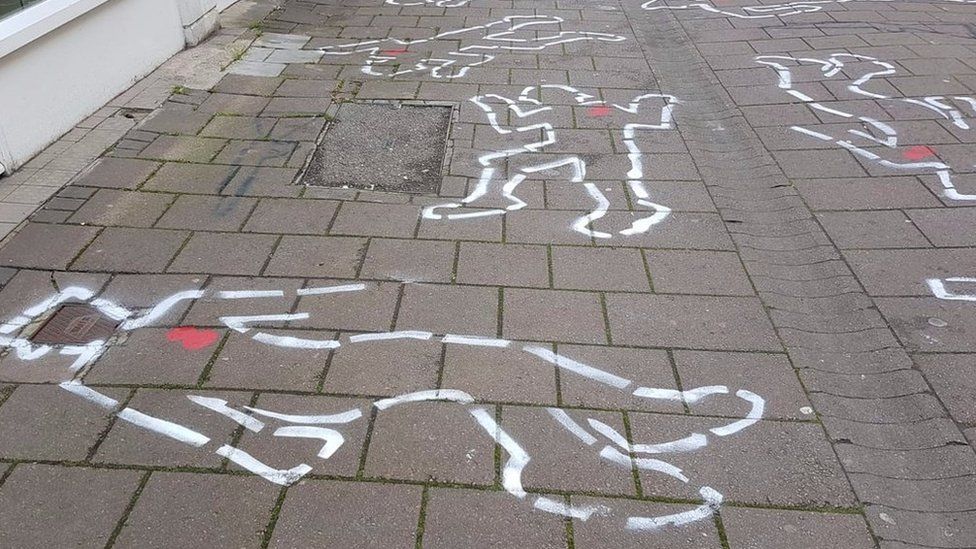 Outlines of World War One soldiers, weapons and body parts, chalked on to a town's pavement, have been described as "utterly disgusting" by a veteran.
The 100 figures with red poppies on their chests were drawn on to a street in Devizes, Wiltshire, to mark the centenary of the end of World War One.
Organisers said it showed the loss and destruction caused by conflict.
Former soldier Brian Rollinson said it looked like a crime scene and should be removed before it caused "more grief".
The stencilled figures were installed in The Brittox, in Devizes town centre, as part of a programme of events by Devizes Outdoor Celebratory Arts (DOCA).
Mr Rollinson, who served in Northern Ireland during the 1980s, said it had brought back some uncomfortable memories.
"I was completely shocked and horrified," he said. "It looked like a crime scene. It was just completely and utterly disgusting.
"I was diagnosed with chronic post-traumatic stress disorder (PTSD) by combat stress in 2014 and [the installation] has brought back some very uncomfortable traumas and memories."
He said "many veterans" were now "struggling with their mental health" after seeing it, and he wanted the silhouettes removed before they caused "more grief".
Kelvin Nash, a town councillor and trustee at DOCA, said it represented loss of life in war, and he was "truly sorry" if it had brought back "pain and suffering to anyone".
"The idea is to get people to stop, stand and reflect but I do appreciate for some people it can be quite shocking," he said.
"At the moment there's around 100 outlines - the aim is 189 one for every name on the Devizes and Roundway memorial."
He said the red marks on the soldier's chests were "clearly not bullet wounds" but "very much a poppy".
"It was the best that could be done with the stencils, but the intention was clearly to make them poppies," he said.
A Royal British Legion spokeswoman said while it was a champion of Remembrance, it did not determine "how others choose to remember".
"We would always encourage commemorations that are appropriate and respectful to the Armed Forces community," she said.
Related Internet Links
The BBC is not responsible for the content of external sites.