National Trust plans to cull wild boar on Stourhead estate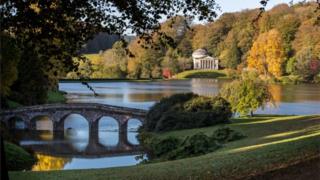 The National Trust has announced plans to cull wild boar after reports people were "confronted and intimidated" by the animals.
The trust said the "difficult decision" followed an "unlicensed reintroduction" of wild boar on land next to the Stourhead estate in Wiltshire.
Environmental campaigner Matt Mellen, who lives five miles away in Frome, said it was "unnecessary and cruel".
The trust said the cull would be carried out by licensed marksmen.
The Stourhead estate covers 2,650 acres and is known for its lake, classical temples and rare trees.
The National Trust said it had not take the decision "lightly", adding: "We only made this decision after considering the alternatives and after consulting with Natural England.
"Unfortunately, there are some instances where humane control is necessary - for instance where there are safety concerns for our visitors, staff or volunteers; or to protect other species or habitats."
Mr Mellen said: "There are very few wild boar in England and it's wonderful to have this precious species back on the land.
"It's unnecessary and cruel to cull them just to maintain smart lawns at Stourhead. I simply do not accept that wild boar are a threat to people.
"These are incredibly shy animals that run away when they see a human."
---
Wild boar in Britain
The animals were extinct in the UK until the 1980s when it is thought some were able to escape or were illegally released from farms
The largest numbers of wild boar live in the Forest of Dean in Gloucestershire, but populations have also been found in Kent, Dorset and Devon
Boar live in areas of woodland and are most active during the night
They live in groups called sounders
Source: Woodland Trust
---