Swindon's 'burn plastic' recycling plan is scrapped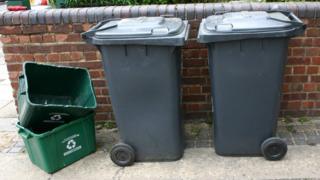 A council's plan to tell residents to stop recycling plastic has been ditched after criticism from government.
Swindon Borough Council wanted to burn plastic rather than sending it abroad for recycling, claiming some "isn't properly recycled".
Environment minister Dr Therese Coffey wrote to the council asking it to "reflect carefully on this decision".
Councillor Maureen Penny said the scheme had been binned after a public consultation.
She told the Local Democracy Reporting service that "it was never a definite policy" but added it was possible it could be resurrected in the future.
"That's why we asked the public for their opinion. People who responded to us were split about 50-50 on it - and many of them where more concerned about whether they would have space in their bins or blue bags for plastics," she said.
"We've also had conversations with our agent about what happens to our plastic when it is shipped for recycling.
"We are happier that it is recycled properly and not just thrown somewhere, so we're confident there's much less chance that it ends up in the dolphin's stomach."
Ms Coffey previously wrote that she was "concerned" about the impact the decision would have on "future householder engagement".
"I find the new plan the council proposes to drop plastic waste for recycling concerning," she said.
"This is surely a regressive step."
The borough council's cabinet will discuss other ideas next week including the possibility of collecting food waste, and an increase in waste wardens who will advise people who continue to put recyclable materials, such as cans, bottles paper and cardboard in their waste bin.
It is possible that some householders will face having no collections if they do not recycle properly.