Wiltshire special schools closure plan approved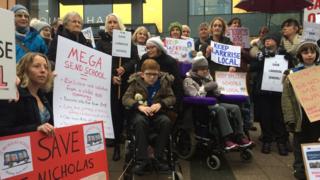 A plan to build a school for children with special needs in Wiltshire has been approved at a local authority cabinet meeting.
Wiltshire Council wants to replace three "out of date" schools with one new £20m facility, near Devizes, to help cater for 220 extra pupils.
The plan sparked anger among parents of pupils at schools due to close over concerns about extra travel time.
A final decision on the plan will be made next March.
The proposal will see a new school in Rowdeford, built to replace the three existing schools in Rowdeford, Larkrise in Trowbridge, and St Nicholas in Chippenham.
The council said the schools would remain open until the new facility, catering for children aged three to 16, opens in 2023.
'Best opportunity'
Cabinet member for children's services, Laura Mayes, said: "This will give us the opportunity to become a national leader for special educational needs.
"We know that this decision will change many people's journey times. However, only 20% of children are currently educated where they live.
"The vast majority are already travelling, so to have one in a location that gives the best opportunity for most families is right."
Linda Bell, who started a petition to save Larkrise school, said: "Has anyone on the cabinet taken the time to experience what children have to go through to travel to school?
"The stress that this will cause them with additional travel time means they will be tired by the time they arrive."
MP Andrew Murrison has also expressed his concern over the plan, saying: "I cannot see how bussing my vulnerable young constituents all the way to Devizes would be in their best interests."
Following a consultation with parents, families and schools a final decision will be made at a full council meeting in March.