Swindon £270m leisure centre plans approved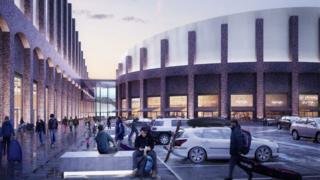 A £270m leisure development will be built in Swindon after it was given the go-ahead by councillors.
The plans were approved at a meeting on Tuesday, despite concerns from local residents about traffic congestion, noise and air pollution.
The North Star site will feature a ski centre, the largest IMAX screen in the UK, and new leisure units.
Developers Seven Capital say the centre will be a "first-class facility that will act as a beacon for Swindon".
They took over the project in July after it had stalled several times.
Councillor Dale Heenan said deferring the project again to discuss concerns was the easy option, "but not the right one".
"We could talk about this for another six months, but we've been talking about it for six years.
"This could be the most critical planning decision in this chamber for 20 years", he added.
John Watkins from Seven Capital said the project would include considerable investment in local roads, walking and cycling routes to ease congestion concerns.