Stonehenge site 'damaged' by engineers working on tunnel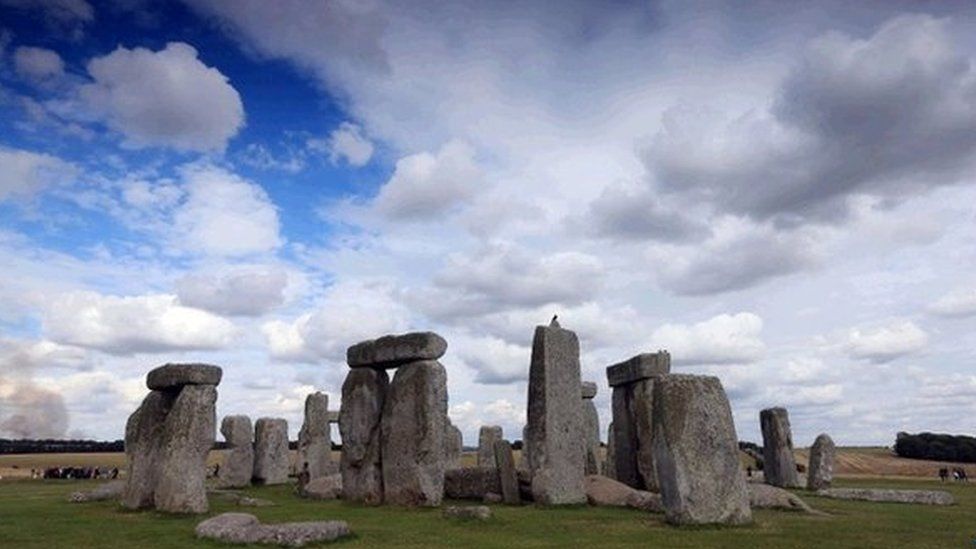 Road workers have been accused of damaging a 6,000-year-old site near Stonehenge as part of preparations for a controversial tunnel.
Highways England engineers monitoring water levels dug the 3.5 metre deep bore hole through the prehistoric platform.
The Blick Mead site is about 1.5 miles (2.4km) from Stonehenge and believed to date from around 4,000 BC.
Lead archaeologist at the site David Jacques described it as "a travesty".
He said engineers did not consult him before carrying out the work.
But Highways England also said no archaeological damage had been caused and its engineers "adhered to guidelines".
The proposed tunnel is part of a £1.6bn programme to upgrade the A303, which links the M3 from London to the M5 in the south west.
The government wants to build the 1.9-mile (3km) tunnel past Stonehenge to hide the busy A303, but campaigners claim it could destroy archaeological treasures.
Perfectly preserved hoof prints of wild cattle known as aurochs have recently been found at the Blick Mead encampment in Wiltshire.
The prints found under the platform were preserved in what appears to be a ritualistic manner, Prof Jacques said.
Construction on the tunnel and linking flyover would lower the water table, drying out the peat and silt conditions which preserve archaeological remains, he added.
Prof Jacques, from the University of Buckingham, said: "This is a travesty. We took great care to excavate this platform and the auroch's hoofprints
"If the tunnel goes ahead the water table will drop and all the organic remains will be destroyed. If the remains aren't preserved we may never be able to understand why Stonehenge was built."
A Highways England spokesman said its water table monitoring scheme "will have no significant effects on the Blick Mead area".
"We do not have any evidence that our monitoring, the location of which we shared with Professor David Jacques, has caused any damage to the site and we have asked for further clarification of this," he said.
"At Prof Jacques' request, we have been monitoring water conditions at Blick Mead to demonstrate that the scheme will have no impact on the site.
He added that they sought further input about the sites from Prof Jacques in November.
Inspectors have now met with Prof Jacques to assess the work and have been discussing areas for further testing at the Blick Mead site.
Related Internet Links
The BBC is not responsible for the content of external sites.