Avon and Wiltshire mental health trust cuts risk patient safety, union warns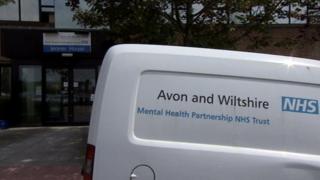 Proposals to cut mental health administrative staff could put patient safety at risk, a union has warned.
Unison said "up to 74 posts could disappear" if Avon and Wiltshire Mental Health Partnership Trust (AWP) "imposed a new administrative structure".
The union said it was "a dangerous attempt to obtain mental health services on the cheap".
AWP said "patient safety is of paramount importance" and it had made "no decision about final structures".
The trust provides inpatient and community-based mental health care for people living in Bath and North East Somerset, Bristol, North Somerset, South Gloucestershire, Swindon and Wiltshire, and employs more than 4,000 people.
Unison said if the proposals were implemented it could result in the "disappearance of specialised medical secretary roles" which would have a "massive impact on the workload of clinical staff".
'Creating uncertainty'
Michael Sweetman, from the union, said: "It is outrageous that these proposals have been sold by the employer as a way to increase efficiency and job satisfaction.
"Mental health support in the UK is already in crisis, with increasing need countered by under-resourcing of services."
Rachel Clark, from AWP, said: "We recognise that the review of administration roles and functions across the organisation is creating uncertainty.
"But the purpose of this review is to create a professional structure to better support our staff, the organisation and our service users."
She said the trust was still in a consultation phase and an "outcome paper" would be published in January.