Dinton airfield fatal plane crash engine 'starved of fuel'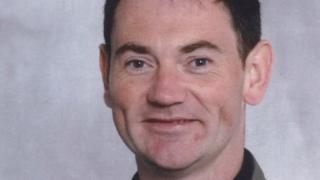 The engine that failed in a plane before a crash that killed an RAF test pilot was most likely to have been starved of fuel, an inquest heard.
Flt Lt Alex Parr died when the Yak-52 aircraft he was flying crashed close to Dinton airfield in Wiltshire, in 2016.
Civilian pilot John Calverley, 62, commander of the flight, told the inquest in Salisbury he believed "fuel starvation" to be the cause.
Air crash investigators agreed what he "described was accurate".
Mr Calverley was accompanying Fl Lt Parr, a tutor at the Empire Test Pilots' School at Boscombe Down, on a demonstration flight of the Soviet Union-designed aerobatic plane when the crash happened as the pilot tried to make an emergency landing, on 11 July 2016.
Stuart Hawkins, a senior inspector for the Air Accident Investigation Branch (AAIB), said they "could not find a reason for it to have failed" and agreed with Mr Calverley's assessment of what happened.
"We stripped down the engine and didn't find anything mechanically wrong with the engine that would have caused the loss of power," he said.
Flt Lt Parr, 40, lived in Marlborough and was married with three children.
'Harnesses failed'
The inquest heard he was thrown clear after impact when his safety belt mechanism failed and declared dead at the scene.
The harness straps - likely to have been the aircraft's original ones and in service for 24 years - had failed to hold him in.
"We found that the right shoulder strap had failed and the crotch strap had also failed and the pin was out," Mr Hawkins said.
One of the recommendations from the AAIB report was the Civil Aviation Authority should review the maintenance requirements for seatbelts and harnesses.
The inquest continues.