Bradford-on-AvonTraffic jam Covid lights removed after complaints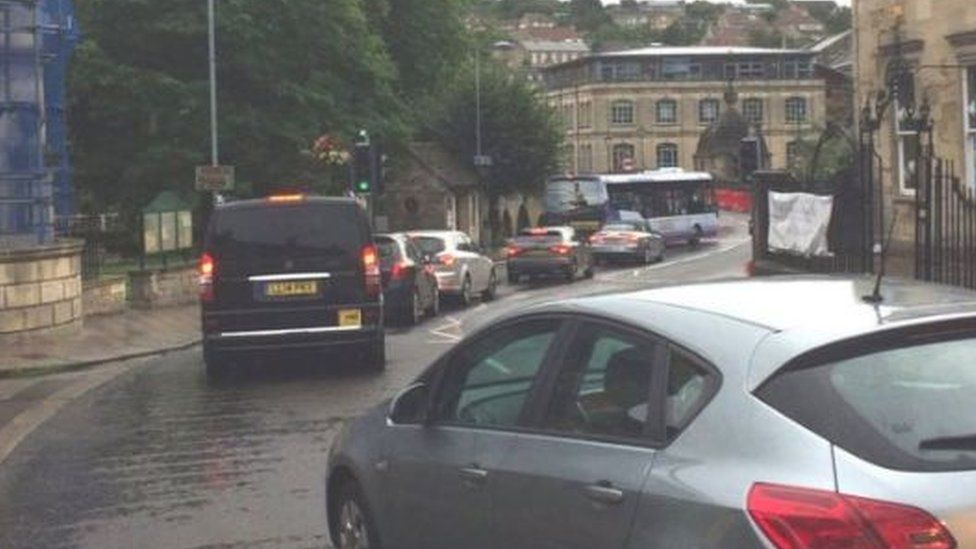 Traffic lights installed on a narrow bridge in a town to help with social distancing are to be removed following a series of complaints.
Businesses in Bradford-on-Avon in Wiltshire claimed the scheme was destroying trade in the town.
The lights, installed in mid August, are part of a one-way system.
But Wiltshire Council has now said they will be removed "to allow traffic to travel across the bridge in both directions".
The one-way system, which includes reducing the town's narrow central medieval bridge to one lane with traffic lights at either end, is part of social distancing measures to widen pavements.
But traffic had got so bad in the centre of the town that it has featured on national radio travel bulletins.
Bridget Wayman, the council's cabinet member for highways, said: "Since this scheme was implemented, we have been clear that we would monitor the traffic flows and listen to the feedback of residents and businesses.
"Based on this feedback, it is evident that changes are needed to the scheme and we feel that the removal of the traffic lights on the town bridge will ensure that the return to school is as stress-free as possible, while we study the scheme to establish what is required to meet the needs of pedestrians and motorists."
She added the one-way system currently in place would remain.
One local taxi firm said it was having to turn away a third of its customers because of the delays the diversion was causing.
Sian James, who runs Station Place Fish and Chips in the town centre, said takings had been dramatically hit.
"On Friday we had an £800 loss and another night that week we had a £500 loss," she said.
"Who wants to sit in the traffic for 35 minutes just to get to the shop and then sit in it to go back, and potentially go home with cold food?"
Related Internet Links
The BBC is not responsible for the content of external sites.