Shalbourne: Man not guilty of double murder bid due to insanity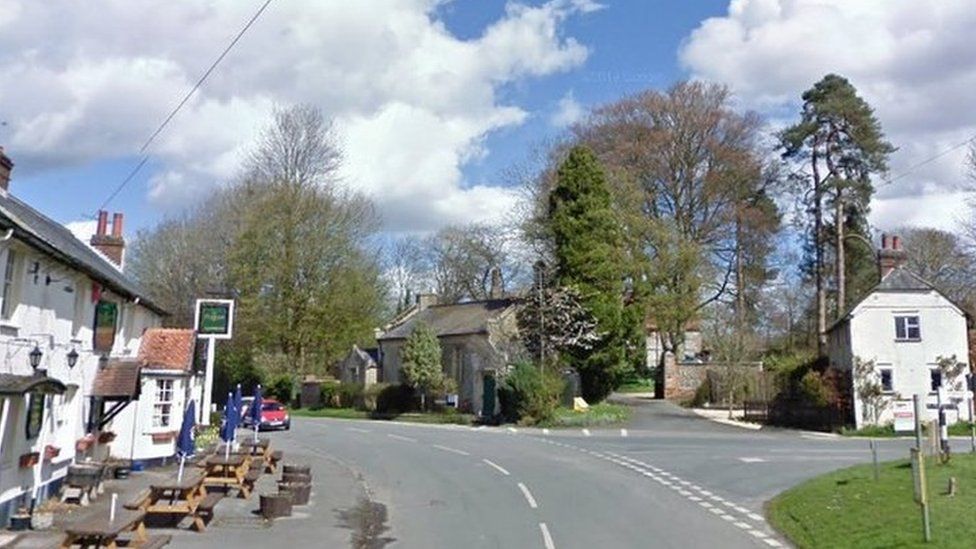 A man has been found not guilty by reason of insanity of attempting to murder his mother and stepfather.
James Wells, 43, of Lee-on-the-Solent, Hampshire, was accused of attacking Linda Holford and her husband Adrian Holford at their home in Wiltshire.
Bristol Crown Court heard Mr Wells had become stressed at work at the time of the incident in Shalbourne on 30 March.
He denied two charges of attempted murder and one charge of assaulting a police officer by reason of insanity.
Mr Wells was working as a project manager at London's Nightingale hospital at the ExCel centre at the time of the incident.
Jurors heard Mr Wells had become stressed at work and was driven to the couple's home in Shalbourne, near Marlborough, Wiltshire, by a colleague on 30 March.
Before being discharged from work he told an occupational nurse that he had not slept for four days and believed he was having a breakdown.
He was said to have used fireplace tools at the detached property, as well as a pewter tankard, to bludgeon the couple hours after arriving.
Mrs Justice Stacey said: "There is no sentence because Mr Wells is not guilty of a criminal offence because, as you have decided, he was insane at the time.
"There is the need for me to decide on what's called disposal.
"The important thing is to make sure that the public is protected from any risk of serious harm."
During the trial, Ray Tully, prosecuting, said it was accepted that Mr Wells carried out a "vicious attack" that resulted in life-threatening injuries, and the issue in the case was his mental state at the time.
Before the incident Mr Wells was a "hardworking family man" who had worked on projects across the world, including the Beijing Olympics, Mr Tully said.
Mrs Holford's injuries included a fractured skull, facial fractures, broken eye sockets and teeth, and bleeding on her brain.
Mr Holford sustained cuts to his head, a puncture fracture to his skull, and a broken jaw and nose.
The couple had a "wonderful" relationship with Mr Wells, who was married with two children, before the incident.
A hearing will take place next month on a hospital order and other possible restrictions.
Related Internet Links
The BBC is not responsible for the content of external sites.