Longleat photos show WW1 soldiers on frozen lake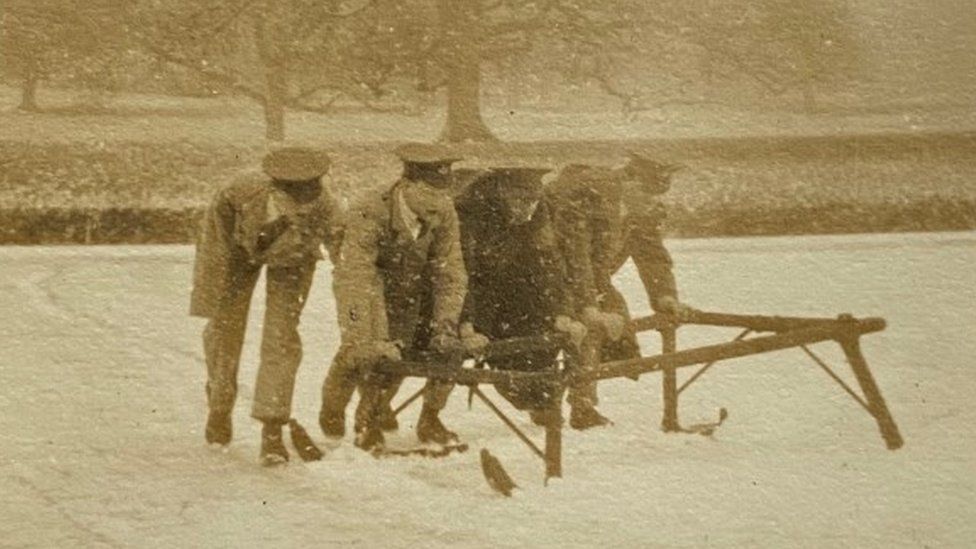 A set of photographs has been found showing soldiers on a frozen lake in Wiltshire on one of the rare occasions it was cold enough to do so.
Longleat House, near Warminster, was used as a makeshift hospital from November 1914 to January 1919.
It treated more than 2,040 soldiers in World War One as well as victims of the 1918-19 Spanish flu pandemic.
Longleat's curator said the ice on Half Mile Pond was more than a foot thick when it froze in February 1917.
The photos were found in a drawer in the top floor library of Longleat House and also include members of the Thynne family who owned the house.
Curator Dr James Ford said he was already aware that the lake froze over in 1917 and later during World War Two.
"What I wasn't expecting to find was such amazing emotive images... snow seems to instantly turn you back into a child and these photos brought it back.
"Even in the depths of really difficult periods like the First World War and a pandemic these moments can bring real joy and levity so they really struck a chord with me."
The South West recorded large snow falls of up to 14in (35.5cm) in 1917.
A temperature of -19.4C (-2.9F) was recorded in Wellington on 7 February that year and the low temperatures persisted until April when it was still -5C (23F) in some areas.
The first patients to be treated at Longleat were 31 Belgian soldiers who fought to defend West Flanders following the retreat of the British Expeditionary Force.
The house was reconfigured with 100 beds set up in the saloon and state dining room, and one of the bedrooms was used as an operating theatre.
Nurses' living quarters were situated on the top floor of the house.
Activities such as plays, concerts and sporting events were also arranged for the convalescing soldiers.
"The photographs provide a fascinating insight into the daily lives of the soldiers as they recuperated and recovered from their injuries," Dr Ford said.
"It must have been quite a shock to have come from the horrors of the battlefront to the grandeur and comfort of Longleat House," he added.
Related Internet Links
The BBC is not responsible for the content of external sites.