Dundas Aqueduct repaired by abseiling stonemasons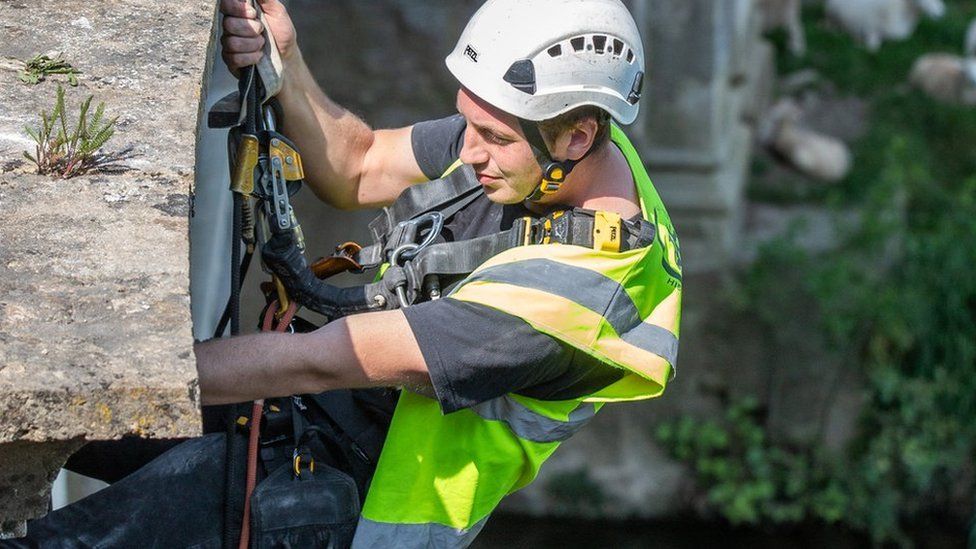 A specialist abseiling team has carried out repairs on one of the most historically significant canal structures in England.
Stonemasons were suspended on ropes 12m (40ft) above the Avon Valley at the Dundas Aqueduct near Bath.
They were working on repairs to the Georgian mouldings that had suffered extensive weather damage.
The Grade I listed structure on the Kennet and Avon Canal is a scheduled ancient monument, dating back to 1805.
The Dundas Aqueduct, on the Wiltshire/Somerset border, has been described as "the architectural jewel in the crown" of the canal.
It is 150yds (137m) long and stretches across the River Avon supported by three classically designed arches.
It features a series of decorative mouldings along its length that had become degraded after decades of freeze and thaw weather damage.
Some restoration work was carried out on the aqueduct in the early 2000s but the Canal and River Trust responsible for its upkeep said the stone details required urgent attention.
Morgan Cowles, the trust's heritage and environment manager, said: "For decades this elegant structure carried narrow boats bearing coal, timber, Bath stone and other goods between Reading and Bristol.
"It was built to take the canal across the Avon Valley, thus allowing a nine-mile long stretch from Bath to Bradford on Avon to be completed without locks."
The aqueduct was closed in 1954 and later drained, but since it reopened in 1984 Mr Cowles said it had "taken on a new life, welcoming hundreds of leisure and lived-on boats".
The stonemasons who were carrying out the repair work used ropes and abseiling techniques to access the decorative details.
The aqueduct was able to remain open while the work was carried out.
Related Internet Links
The BBC is not responsible for the content of external sites.