Stonehenge: English Heritage to repair cracked lintels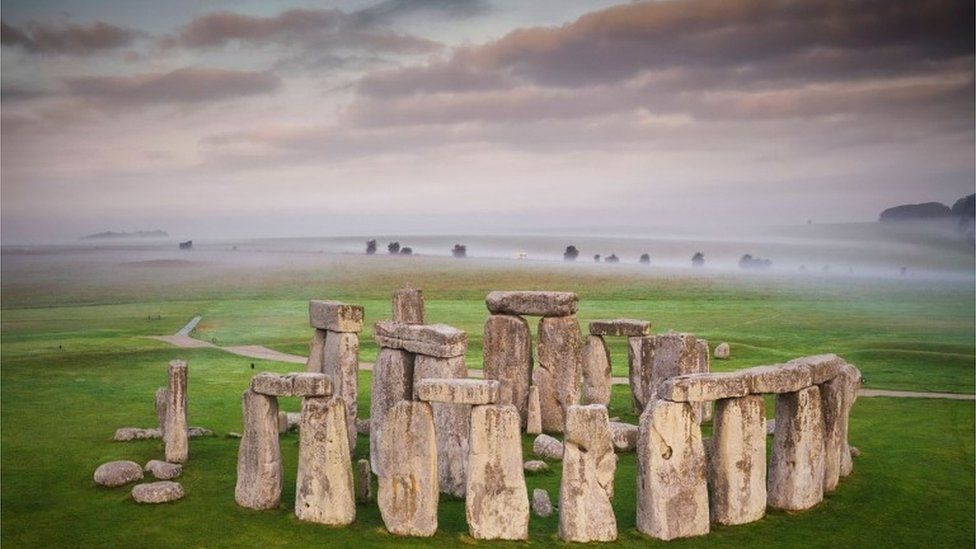 Cracks and holes in the stones which form Stonehenge are to be repaired for the first time in more than 60 years.
Work is taking place after laser scans showed the lintel stones, joints and concrete mortar that balance them across the vertical stones have eroded.
To mark the start of repairs, English Heritage has invited a man to replace a halfpenny he placed under one of the stones in the 1950s when he was a boy.
Specialist conservators are expected to take two weeks to carry out the work.
Scaffolding will be put in place so that workers can reach the top of the stones and replace the deteriorating concrete mortar with lime mortar.
Senior curator Heather Sebire said: "Stonehenge is unique among stone circles by virtue of its lintels and the special joints used to secure the lintels in place.
"Four and a half thousand years of being buffeted by wind and rain has created cracks and holes in the surface of the stone, and this vital work will protect the features which make Stonehenge so distinctive."
The charity has also arranged with the Royal Mint to produce a special commemorative 2021 coin so it can be stuck into the new mortar holding the lintels in place.
It will be placed there by 71-year-old Richard Woodman-Bailey who put in the original 1958 coin when he was eight.
Director of Collector Services at The Royal Mint Rebecca Morgan said: "We were delighted to invite Richard to The Royal Mint to strike his own coin that will take its place in history.
"In honour of the ancient site, we struck a 2021-dated £2 silver coin featuring Britannia.
"This symbol of Britain first appeared on UK coins 2,000 years ago, and has been carried by visitors to Stonehenge for centuries.
"This is the joy of collecting coins; they tell a story that connects generations."
Related Internet Links
The BBC is not responsible for the content of external sites.