New wetland in Wilton to be planted with 20,000 native plants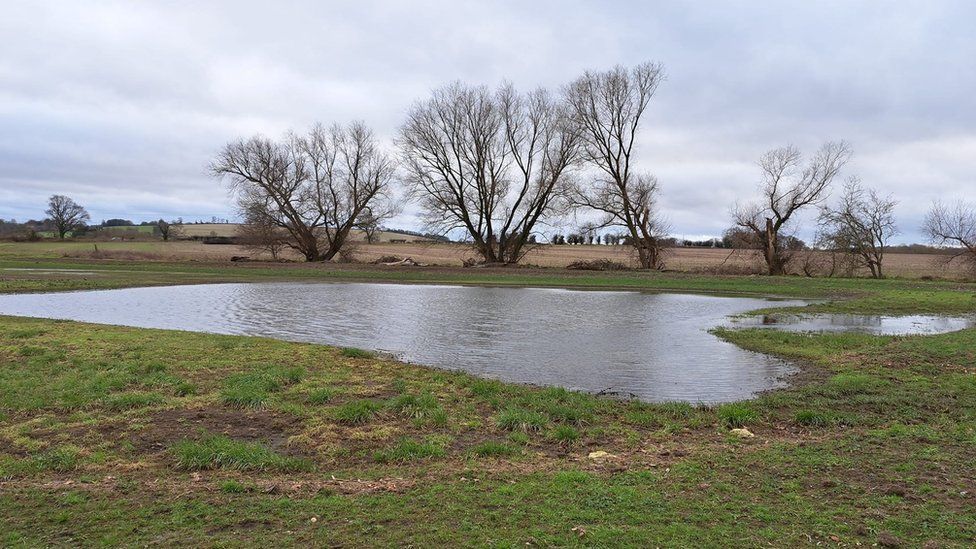 Volunteers are preparing to plant 20,000 native species on newly created wetland.
The Wilton Wetlands project is helping to cut flood risk to nearby Wiltshire communities and boost biodiversity.
Rewetting just five acres of former farmland is already having a big impact, according to conservationists.
It is cutting the amount of sediment and agricultural pollution washing into the River Kennet and is expected to become a haven for wildlife.
Rupert Kelton, from Action for the River Kennet, said: "A lot of (the UK's) wetlands were lost a long time ago with land drainage, particularly for industry and for development.
"So reversing that trend and creating new wetlands is incredibly important."
He continued: "The wetland here in Wilton is helping reduce flood risk down in the village of Wilton and further down in the river catchment.
"It helps to reduce pollution from sediment and nutrients from water that is draining through the ditch network."
Mr Kelton said come summer visitors can expect to see flowers such as flag irises and purple loosestrife, as well as rushes and sedges.
The land for the project belongs to farmer David Lemon, one of the founding members of conservation organisation Southern Streams.
It is made up of a consortium of farmers managing about 25,000 acres in total.
They are working to manage the landscape to improve the health of rivers and streams, biodiversity and soil quality.
Mr Lemon said the site had previously been a grass meadow.
"We didn't do an awful lot with it so it's quite nice to be able to do something that's really meaningful and is going to make a difference to the landscape," he said.
The surrounding area is already seeing the benefits of the wetlands, particularly following the heavy rain seen after December's cold snap.
The wetland slowed the passage of the water through the landscape giving it time to drain, meaning not a single property flooded.
Mr Lemon said a huge variety of wildlife would be attracted to the site, adding: "It will be a really fantastic spot for people to come and enjoy."
Related Internet Links
The BBC is not responsible for the content of external sites.