York city square closed amid football violence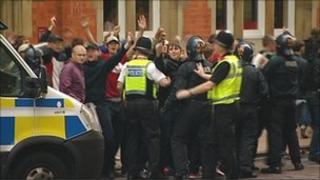 One of York's busiest shopping squares was closed off by police after violence erupted among about 50 football fans.
Police cordoned off St Helen's Square as violence broke out among Hull City fans, who were in the city for a pre-season friendly against York City.
Eyewitnesses said officers in riot gear and with police dogs forced the fans into the Lendal Cellars pub where they were contained.
Two hours later the police were seen to escort them to the railway station.
One person has been arrested in connection with the incident.
Eyewitness Sandra Preston, who works in the same building as the Lendal Cellars pub, said she was not allowed to leave the premises for about two hours.
She said the first she knew of the trouble was at about 1130 BST when she heard the sound of breaking glass.
Asked if she was frightened, she said: "I was more concerned in case anyone had been hurt."