Archbishop of York condemns violence in city centre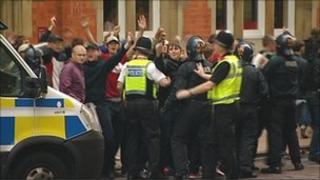 The Archbishop of York has urged police to track down the football fans who brought violence to the centre of York.
St Helen's Square was closed off on Saturday after violence erupted among Hull City fans before their team's pre-season friendly against York City.
The archbishop, Dr John Sentamu, who is also York City's patron, said: "I hope the police use CCTV to get hold of all those who committed crimes."
He said the troublemakers should be "brought to book" by being prosecuted.
He was joined in his condemnation by Hull City Council leader Carl Minns who said the fans' behaviour had "brought shame" to Hull.
Mr Minns said he had spoken to the leader of York City Council and apologised on behalf of the people of Hull, who had been celebrating the return of the Round The World yacht fleet to the Humber at the same time as the trouble in York.
"It has brought shame on the city on what was a fantastic day here with the world's eyes upon us," he said.
North Yorkshire police, who arrested two men from Hull and one man from York for disorder offences, said the incident had been "dealt with robustly".
Officers in riot gear and with police dogs contained the group of 40 to 50 Hull fans inside the Lendal Cellars pub where the trouble first flared up.
Two hours later the police escorted the group to the railway station where they were put on a train back to Hull.
Supt Lisa Winward said: "This was a pre-season friendly match and we had no indications that there would be any trouble ahead of the game.
"It is clear that there was a small minority who were determined to spoil the day for everyone else."
Football violence also broke out in Cleethorpes after Grimsby Town's pre-season friendly match with Sheffield Wednesday on Saturday.
Windows were smashed during clashes with police on the seafront and Humberside Police said seven people were arrested.