Knaresborough castle cliff safety discussed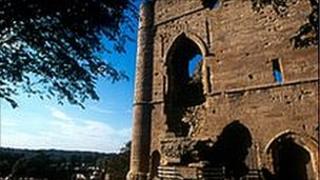 Plans to completely net off a potentially dangerous cliff face below Knaresborough Castle are to be discussed at a meeting.
Harrogate Borough Council has approved a budget of about £200,000 to carry out essential safety works to the cliff.
It follows concerns over the safety of the cliff face following detailed works by a specialist company.
Work due to be carried out will be discussed at a meeting at Knaresborough Town Council on Monday.
A spokeswoman for Harrogate Borough Council said the condition of the cliff did not pose an immediate threat to the public.
Detailed analysis
Patrick Kilburn, head of parks and opens spaces for Harrogate Borough Council, said as part of the conditions of the lease of the land from the Duchy of Lancaster, the council was responsible for the management and maintenance of Knaresborough Castle cliff face.
He said: "Some of the cliff face is already netted off and the council carries out regular de-vegetation programmes."
He said the detailed investigative works by the specialist company was the most detailed analysis of the rock face ever carried out.
He added: "There is a lot of interest in this ancient monument and its setting and I do hope that people will come along to hear our presentation so that they can be made fully aware of the need for this netting work which is being done to ensure everyone's safety."