North Yorkshire university 'rejects' applications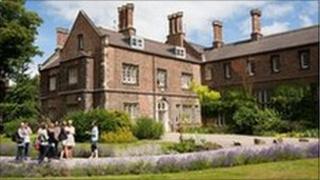 A university in North Yorkshire says it has had to reject almost double the number of applicants this year, compared to last year.
York St John university has turned down more than 3,300 applications for courses starting this September.
In 2009, it had rejected almost 1,700, for courses beginning last September.
A spokeswoman for the university said it was forced to reject applications because the government restricted the number of students it could recruit.
Siona Mackelworth, director of marketing at the university, said: "The government is restricting the number of students we recruit, without incurring financial penalty or losing those places that are funded."
The university said demand for a placement at York St John was due to an increasing interest, generally, in university education.
Campus investment
It said this could be because more people were qualified and wanted to go to university, with others choosing education over employment in tough economic conditions.
It also said its recent investment in the campus and its reputation for having a higher than average employment rate after students had graduated, could have had an impact on its application rate.
Universities in Sheffield and Leeds have also had to reject more applicants than in 2009.
The University of Sheffield said it had had 34,374 applicants for an undergraduate intake of 5,184.
In 2009, it had 29,270 applications for a similar intake.
Leeds Met University said in 2010 it had 38,657 applications for a planned intake of 6,660. In 2009 it had 30,922 applications for an intake of 6,400.