North Yorkshire Police arrest 10 in stolen goods raids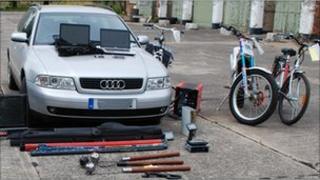 Ten people were arrested as police seized suspected stolen goods in raids on properties across York.
Items recovered included 195 mobile phones from one house in Rawcliffe, a motorbike, six mountain bikes, car parts, an axe and two crossbows.
A 17-year-old boy, seven men and two women, all from York, were arrested on suspicion of offences including theft, burglary and handling stolen goods.
North Yorkshire Police said 54 officers took part in the operation on Tuesday.
Officers also found suspected class A drugs at a property in Tang Hall and cannabis in the attic of a house in Clifton.
The raids were part of the ongoing Operation Maelstrom, which targets people involved in the handling of stolen property and related crime.
Insp Mark Gee, of North Yorkshire Police, said: "This was a very successful operation in terms of the number of arrests we made, property seized and further intelligence we have managed to obtain."
He said the force hoped to reunite stolen goods with their owners as soon as possible.