Council defends North Yorkshire incinerator plans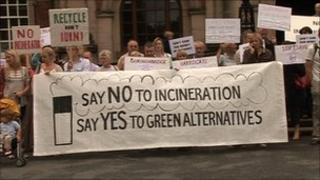 Plans for a waste incinerator in a rural part of North Yorkshire have been defended after a protest by residents who are against the plant.
The protesters say the plant at Allerton Quarry, near Knaresborough, would be an eyesore and more money should be spent on recycling instead.
The county council says it will save 90% of waste from going to landfill.
It said it was committed to recycling but had to plan for an expected increase in waste in future years.
A group of residents showed their opposition to the incinerator during a protest outside the council offices on Wednesday.
Nick Wilson said people were concerned over the level of public consultation.
Autumn vote
He said: "The plans for an incinerator have gone ahead very rapidly in the last few months without us actually having a chance to put any input in.
"The only chance we'll get to make any comment is when the planning application comes in an we feel that that is far too late."
AmeyCespa has been named as the preferred bidder to build and manage the new waste facility.
The council will vote in the autumn on whether the company can go ahead and submit a planning application.
Ian Fielding, the council's assistant director of waste management at North Yorkshire Council Council, said: "We seek public engagement and involvement in decisions to be made and we welcome and invite anyone who hasn't commented on the decision that's to be made in the autumn to make it noted."
Mr Fielding denied claims by residents that the facility was too large for its purpose.
He said: "We're currently producing about 450,000 tonnes of waste every year and that is likely to grow as the economy improves and we have more housing in the county.
"The plant that is proposed to us will deal with that waste in the future. There'll be a small amount of capacity available to us now but in due course we will need all of the capacity available in that plant."
Mr Fielding said the council was committed to recycling initiatives but added: "There's a point when you can't recycle any more and we will always have waste that we will have to find an alternative way of dealing with and that's what this plant is for."