Bid to identify man found dead in Scarborough in 1989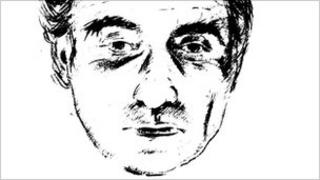 Police are trying to identify the body of a man found dead in Scarborough more than 20 years ago.
The middle-aged man was discovered in the town's harbour on 4 May 1989 but despite inquiries has never been identified.
Detectives are re-examining the case as part of a review involving unidentified bodies in the county and have released a facial sketch of the man.
Det Sgt Stuart Thompson said: "Someone out there must know who he is."
When the man was found, his age was estimated to be between 30 and 60.
Cheque stub
He was described as white, clean shaven, 5ft 10in (1.77m) with brown eyes and weighing about 12 stone (76kg).
Pathologists found a scar and swelling just above his left ankle which were caused by a fracture that had not healed properly and may have caused him to walk with a limp.
Police said it was known he had stayed at a hotel in Scarborough for two nights and was last seen alive on 1 May.
It is also believed that he may have had connections in Greater Manchester, Blackburn, Todmorden and Calderdale.
Mr Thompson said: "He had few possessions. All he had with him was a Greater Manchester Police property bag containing a few toiletries, a Barclays Bank cheque stub and cheque book cover, a newspaper, a used rail ticket from Blackburn to Todmorden and a railway timetable."