Sutton Bridge reopens after repairs totalling £350,000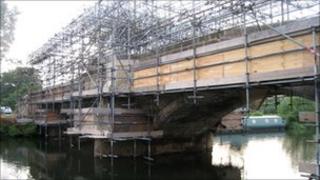 A bridge linking East and North Yorkshire which was badly damaged by a vehicle seven months ago has reopened after repairs costing £350,000.
Sutton Bridge, which links Elvington in North Yorkshire and Sutton on Derwent in the East Riding, is believed to have been hit by a lorry on 8 January.
Temporary repairs were carried out in January, but the full repair work started on 14 June and is now complete.
Specialist stonemasons were brought in to mend the grade II-listed structure.
The six-week repair programme was arranged for the summer to allow contractors to use the longer evenings to minimise the effect of the closure on the local community.
'Brief' closure
Councillor Matthew Grove, portfolio holder for highways at East Riding of Yorkshire Council, said: "While the council had no choice but to close the bridge to carry out repairs after the crash in January, we also had a great deal of sympathy for members of the local community who were affected by the bridge being closed.
"We have worked closely with the local parish councils throughout this process and arranged the work to keep the closure as brief as possible.
"I am sure everyone will be pleased to see that the bridge is now due to open again."
As well as repairs which have strengthened the structure, the width between the parapets across the bridge has been increased, reducing the risk of any future damage being caused.
Humberside Police believe the bridge was damaged when it was hit by a large vehicle, probably a lorry, but the culprit has never been found.