Skipton sheepdog auction sees new record price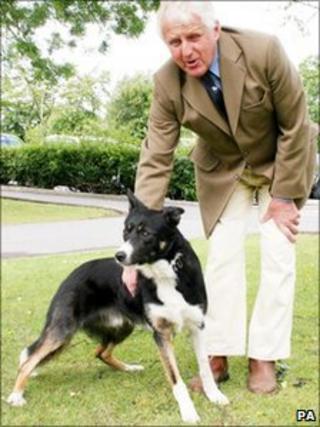 The world record price for a sheepdog has been broken twice in one day at an auction in North Yorkshire.
Border collie Rex and tri-coloured sheepdog Ron both sold for 4,900 guineas (£5,145) at Skipton Auction Mart last Friday.
That broke the previous official sale record of 4,100 guineas (£4,305).
Rex was sold by World Sheepdog Trials champion Aled Owen, of Denbighshire, Wales. Ron was sold by John Bell, a handler from Howden, East Yorkshire.
Mr Bell also holds a record for selling the most dogs for the highest price - an unprecedented 15 times.
His good run continued as another dog he brought to the auction sold for the second highest price of the day - Floss, a 15-month-old bitch sold for 3,900 guineas (£4,095).
Renowned venue
Mr Bell said: "Ron was a lovely young dog and he performed well on the day, so I was happy.
"But people think that it's a lot of money but really, when you take into account all the training and trials, it's not."
Craven Cattle Marts (CCM), at Skipton, is renowned in the UK for sheepdog sales and brings many of the top sheepdog buyers and sellers from all over the country.
Mr Bell said that a good sheepdog shows intelligence and responds to commands.
He said his dogs did well in the auction because they were young, making them more adaptable.
"All I hope is that I have good dogs, that they work well, listen to my commands, and show off well in terms of style, quality and balance," he said.