Awol soldier Joe Glenton speaks of jail support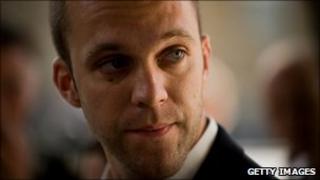 A soldier recently released from jail after refusing to fight in Afghanistan because he opposed the war has spoken of the support he received in prison.
L/Cpl Joe Glenton, 27, from York, was jailed for nine months in March after he admitted going absent without leave.
Mr Glenton, based in Oxfordshire, joined the Army in 2004 but absconded in 2007 after serving with the Royal Logistic Corps in Afghanistan.
He said support from fellow prisoners at the military jail was "heartening".
Mr Glenton said: "The support I had inside not only from fellow prisoners but at one point I was getting 200 letters a day from all over the world so I never felt alone at any point.
"There was no hostility. They (fellow prisoners) were massively supportive, we're talking about very experienced soldiers here... In a sense I kind of had suspicions they might be hostile but it was almost complete support across the board which was really heartening for me."
A court martial was told that the soldier, who later campaigned against the conflict, was discovered to be absent on 11 June 2007, when he was due to return to Dalton Barracks in Abingdon.
He returned to barracks 737 days later on 16 June 2009, when he was charged.
Mr Glenton had previously performed a seven-month tour of duty in Afghanistan.
When he returned he was ordered to go back to the conflict zone.
'Optimistic future'
The court martial heard that Mr Glenton had suffered from post traumatic stress disorder (PTSD) after his first tour of duty.
Mr Glenton said he tried to pursue his problems through official channels but was "turned away".
"I was basically turned away and called a coward and malinger."
He added: "Soldiers aren't just kind of robots, they are thinking people and they will base things on their own experiences and come to their own conclusions."
Mr Glenton said he was now optimistic for the future and was planning to start a university course in international studies at Leeds Metropolitan University.
"I've not only left the military but I've also left prison, so it's kind of a double whammy.
"I'm going to university in September and that's going to be fantastic.
"I've got a lot to look forward to. I've got a massive social circle with loads of support and I'm very optimistic about it."