'Lost' trade after bridge closure in Whitby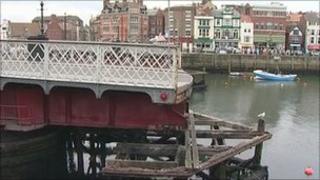 Traders in a North Yorkshire seaside resort say they are losing valuable business since the town's historic swing bridge broke down.
The bridge in Whitby stuck at the open position last week - splitting the town in two.
Replacement parts have been ordered from Italy and are due to arrive later this week.
But Scarborough Borough Council has warned the bridge may not be fixed until Friday, at the earliest.
The bridge malfunctioned last Wednesday due to a failure in the gear box on the west side of the structure.
Francesca Laws of Mr Chips said: "This time of year, which is the time when we make most of our profit, we would normally have queues from 1030 BST until 2230 BST. But we have had nothing."
Val Lawson of Daisy Crafts said there aren't enough free buses, and the council should have chartered boats.
She added: "There are no signs up to say these businesses are open as usual."
The council said tests on the bridge would take place on Thursday, if the parts had arrived and installed successfully.
It said that as well as the replacement parts it had also ordered replica parts from Italy as part of a contingency plan, should further problems develop in the future.
The total cost of the parts will run to around £25,000.
The council has stepped up the frequency of free shuttle buses to transport people to and from the east and west sides of the town.
Two shuttle buses will operate every seven minutes throughout the period of the bridge closure, from 0600 BST until midnight daily.
Locally run ferries are also operating between both banks of the river.
Other temporary measures, such as providing a footbridge over the River Esk, have been ruled out, due to the fact the bridge's planned opening was Friday.
John Riby, the council's head of technical services said: "We realise it has caused inconvenience to residents, traders and visitors to Whitby and I would like to thank people for their patience and understanding.
"We are also continuing to stress that shops and businesses on the east and west sides of Whitby are still very much open."