Drax delays biomass power station decision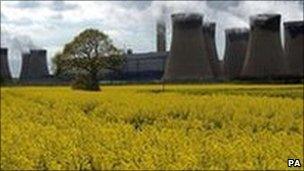 Power producer Drax has delayed a decision on its first power station to run entirely on environmentally friendly biomass until next year.
The firm, based near Selby, North Yorkshire, said it needed greater assurance of government support.
The company said it had originally hoped to prove the investment case for the first plant at Immingham, North East Lincolnshire, by the end of 2010.
Drax intends to develop three new dedicated biomass-fired power plants.
A spokeswoman for Drax said the company, along with other biomass plant developers, had discussed with the government the need for a guaranteed level of support for new dedicated biomass plants over their lifetime, known as "grandfathering".
She said: "We argued that grandfathering provisions are needed to provide certainty for investment decisions."
She said the Annual Energy Statement on 27 July committed the government to grandfathering support for dedicated biomass for 20 years - once the power station had started to generate electricity.
However the level of support the government agreed to give, was subject to review every four years.
The company said it was, therefore, unknown what support they were likely to receive for their power plants which were planned to be in operation by 2014.
The spokeswoman added: "The support level the power station receives is unknown, meaning it is not possible to make the investment case and this must be delayed until there is certainty."
The operator of Drax, which is Britain's largest coal-fired power station, has recently reported a 23% rise in first-half profits to £184m.
Related Internet Links
The BBC is not responsible for the content of external sites.