Pitch tackles anti social behaviour in Scarborough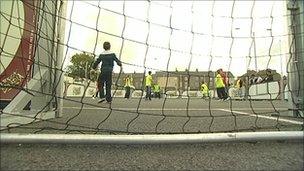 A mobile football pitch scheme has been credited with reducing anti-social behaviour in a North Yorkshire town.
The pitch, which is packed into a trailer, is being used at the Eastfield estate in Scarborough.
It was initially set up as a pilot scheme funded by North Yorkshire County Council and aimed to reduce bad behaviour in the town.
The project is now seeking a sponsor to help expand the scheme across the rest of the town.
Project co-ordinator, Steven Brennan, said: "We really want to move it around the whole of Scarborough, but not just one night a week, we want to do it five or six nights."
If the scheme is extended, it is hoped the rest of the county could benefit from the initiative.
Sgt Diane Jobling of North Yorkshire Police said: "We have quite a lot of problems with youths drinking.
"They end up fighting, causing criminal damage to vehicles and generally being a nuisance to local people.
"Projects like this that Steve is running we think are fantastic, and we would like to see it carried on into different areas."
Related Internet Links
The BBC is not responsible for the content of external sites.