Claudia Lawrence's father returns to 'time warp' house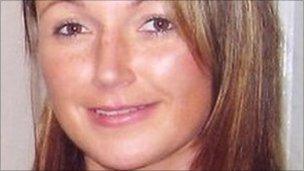 The father of missing York chef Claudia Lawrence has made a visit to her home for the first time since she vanished, describing it as a "time warp".
Peter Lawrence said he recently went to his daughter's house in Heworth for the first time since March 2009 when he discovered she was not there.
Speaking on BBC Radio 4 he said: "It was a strange, numbing experience."
Police said a television documentary about Miss Lawrence failed to throw up a major breakthrough in the inquiry.
Mr Lawrence said: "It's still Claudia's house even down to there being dirty plates in the sink and washing still in the machine. It is in a bit of time warp."
Police said they had carried out a number of searches at Miss Lawrence's house and where necessary items had been removed from the premises and retained.
Det Insp Adrian Gathercole said: "Knowing Mr Lawrence was returning to the house we endeavoured to ensure that, where possible, everything was put back where we had found it."
Her father was speaking on Radio 4's Sunday programme just days after the screening of a Channel 4 documentary on Friday, which followed her family in the 16 months since she was last seen.
Police said 22 calls had been made to a dedicated phone line but no major breakthrough had been reported.
Detectives said they would continue to review information received.
A North Yorkshire Police spokeswoman said: "No major breakthrough reported in any of the calls, however, detectives will be reviewing and cross-referencing the information received over the weekend against existing information and will pursue any new information which comes to light.
"Someone somewhere knows exactly what has happened to Claudia.
"We urge them to do the right thing and come forward now.
"Please end Claudia's family's anguish and tell us what you know."
Related Internet Links
The BBC is not responsible for the content of external sites.