North Yorkshire machinery thefts prompt police warning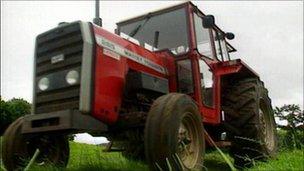 A spate of plant and agricultural machinery thefts in North Yorkshire has prompted a warning by police.
Three stolen tractors were recovered from commercial premises on Old Great North Road in Brotherton on Tuesday.
A flat-bed truck suspected of transporting the vehicles and a scooter were also recovered.
Police said there had been a number of similar thefts in the Borougbridge, Malton and Scarborough areas and urged owners to step up security.
A 40-year-old man from Goole, East Yorkshire and a 70-year-old man from Knottingley, West Yorkshire have been arrested in connection with the incident in Brotherton.
Police said in a separate incident, thieves broke into the Highways Department depot near Boroughbridge overnight on Tuesday and stole a JCB forklift truck.
A tractor and trailer loaded with rapeseed oil were also stolen from Garth End Road in West Ayton near Scarborough overnight on Monday.
In addition, two concrete mixer trucks were stolen from Whitewall quarry in Norton, near Malton overnight on Monday.
Ch Supt Alison Higgins said: "This type of crime costs businesses millions of pounds a year."
She added: "Owners of machinery must take every precaution they can to help keep their property secure.
"These are valuable business assets and their loss can greatly affect a business's continuity and service."
Related Internet Links
The BBC is not responsible for the content of external sites.