Selby woman recovers after Hellp syndrome in pregnancy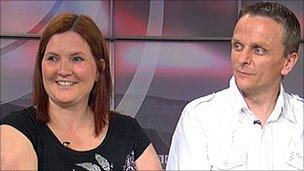 A woman from North Yorkshire lost her baby and suffered five heart attacks and organ failure after developing a rare syndrome during pregnancy.
Jo Walstow, 32, from Selby, was 30 weeks into her pregnancy when she developed Hellp syndrome in July 2009.
At one point her husband Kevin was told to say goodbye because doctors thought she was going to die.
She has since been at a rehabilitation centre in Goole and now wants to raise awareness of the syndrome.
Mrs Walstow had had a routine pregnancy but then developed Hellp - an extreme form of pre-eclampsia in which the body poisons itself.
It occurs in less than 1% of all pregnancies and symptoms include progressive nausea and vomiting, upper abdominal pain, headaches and visions problems.
If Hellp is not treated early, up to 25% of women may develop serious complications and without treatment there is a high risk of death.
As well as losing her baby and suffering five heart attacks, Mrs Walstow suffered kidney failure, her lung collapsed and she was in a coma for three months.
Midwife Julie Howe said: "It's certainly the worse thing I've ever seen.
"The midwives on with me that night who have a huge amount of experience said they have never seen anything like it because Jo's liver ruptured and she ended up losing approximately 15 litres of blood. We thought she was going to die."
Ms Howe said it was not until husband Kevin spoke to his wife that her condition improved.
"He sat next to her and said: 'I really love you Jo and I really don't want you to die, please keep strong, keep going' and then he looked at all the team and said: 'Please don't give up'."
Now the couple are trying to get their life back to normal.
Mrs Walstow said: "My ambition is to get back home and go to work, it's a strange ambition... just to be normal again."