Roman 'industrial estate' unearthed in North Yorkshire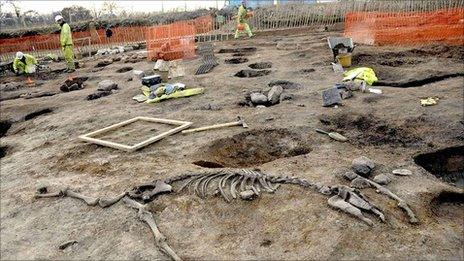 Archaeologists have unearthed the remains of a Roman "industrial estate" in North Yorkshire.
The site includes remains of a water-powered flour mill used to grind grain and produce food. Clothes, food remains and graves were also uncovered.
The excavation work was carried out along the route of the A1 upgrade between Dishforth and Leeming.
The site is thought to be linked to a known imperial fort at Healam Bridge built by the Romans 2,000 years ago.
It is thought the military outpost was used by the Roman Ninth Hispanic Legion, which disappeared some time in the Second Century.
Blaise Vyner, cultural heritage leader, said: "We know a lot about Roman forts, which have been extensively studied, but to excavate an industrial area with a mill is really exciting.
"We hope it can tell us more about how such military outposts catered for their needs, as self-sufficiency would have been important."
The industrial area comprised of a series of large timber buildings, mostly on the north side of a beck, which powered the mill.
It would have supplied the fort with goods and provisions.
Experts said there was also an indication that the Roman occupants may have worn socks - rust on the nail from a Roman sandal appears to have impressions from fibres.
Related Internet Links
The BBC is not responsible for the content of external sites.