Couple killed in North Yorkshire motorbike crash named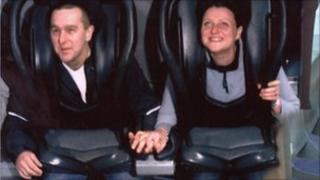 A couple killed when their motorcycle collided head-on with a car in North Yorkshire have been named by police.
Dean and Helen Slater, aged 40 and 37, were on a Yamaha bike which collided with a car on the slip-road for the A64 from the A162 last Wednesday.
Mr Slater was riding the bike and Mrs Slater was the pillion passenger. The couple, from Thornton, Bradford, were pronounced dead at the scene.
Police are appealing for three "vital witnesses" to come forward.
Police said the couple, originally from Morley, Leeds, were travelling in company with five other motorcyclists.
Joggers sought
The route taken by the group was from Bingley to Shipley along the A650, then past Leeds Bradford Airport at Yeadon, travelling to Pool through Arthington towards Harewood on the A658.
The group then headed from Harewood to Collingham along the A61 before heading to Boston Spa and then Tadcaster when the collision, with a Vauxhall Vectra on a slip road on to the A64 eastbound, occurred.
Traffic Sgt Julian Pearson, who is leading the investigation, said: "I am particularly interested in hearing from two joggers who were on the A659 in the area of Newton Kyme and the driver of a Morris Minor which was entering Tadcaster on the A659 outside the primary school.
"The joggers and the car driver had to take evasive action to avoid being struck by members of the groups of motorcyclists."