Fire-damaged Majestic Hotel re-opens in Harrogate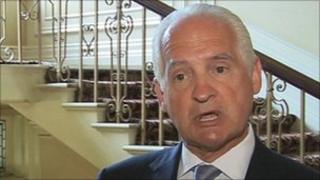 A hotel in North Yorkshire badly damaged by a fire which claimed the life of a kitchen porter has opened its doors once more.
Nigel Butterfield, 41, died in the fire which broke out at the Majestic Hotel in Harrogate in May.
The hotel officially opened on Monday but welcomed its first guests since the fire on Sunday.
Chief executive, Charles Prew of Barcelo Hotels UK which owns the hotel, said 35 rooms were damaged.
He said: "A lot of the dirty work has now been completed. We had to make the hotel secure where the fire was.
"It was only in a section of the hotel, in fact only 35 bedrooms were damaged."
Refurbishment programme
Mr Prew said it took two months for scaffolding to be erected and a roof built.
He said dirty materials were then removed so the building could be dried out.
He added: "And for the rest of the hotel it was a great opportunity to spend some money. We spent nearly a quarter of a million pounds refurbishing and repainting the lobby, lounge and dining room."
While the hotel has been closed hotel staff were re-deployed elsewhere in the company, or took up temporary positions at other hotels in Harrogate.
The cause of the fire is still unknown.
All parts of the hotel will be repaired and re-opened by April 2011.