Buzzard survives shooting in North Yorkshire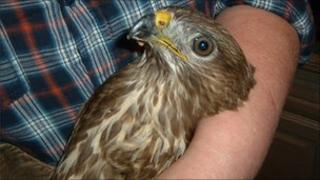 An investigation is under way after a buzzard was shot in North Yorkshire.
The bird of prey was found with shotgun wounds and two pellets lodged in its leg on land at Dallow near Pateley Bridge on Tuesday.
The bird, which had also sustained broken flight feathers and was very malnourished, is expected to recover.
Pc Mark Rasbeary, from North Yorkshire Police, said: "It's completely unacceptable that birds of prey are still being persecuted in this manner."
A report released by the RSPB on Thursday showed North Yorkshire had the highest number of criminal attacks on birds of prey last year.
The charity's annual bird crime report revealed that it received reports of 27 incidents in North Yorkshire in 2009 - joint highest with Cumbria.
James Leonard, RSPB investigations officer for the north of England, said: "It is absolutely appalling that another bird of prey has been shot in North Yorkshire.
"Over the last 20 years, our records show that North Yorkshire has the highest number of confirmed and reported incidents of bird of prey persecution.
"I would urge anyone with information about bird of prey persecution to contact the police and help bring offenders to justice."