Sculpture memorial to dead Kellingley miners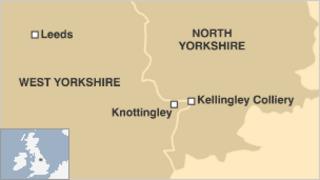 A memorial to miners killed at one of the UK's largest collieries is to be unveiled by the families of two men who died there in the past two years.
Don Cook was killed in a rock fall at Kellingley colliery, on the border of West and North Yorkshire, on 30 September 2008.
Ian Cameron died after equipment fell on him on 18 October 2009.
Members of the National Union of Mineworkers (NUM) have raised £14,000 towards a memorial sculpture.
It will be unveiled at the pithead on the anniversary of Mr Cook's death.
Donation appeal
Miners at the colliery decided to raise funds for the memorial for Mr Cook, Mr Cameron and other workers killed at Kellingley since it opened in 1958.
Keith Hartshorne, NUM delegate at Kellingley, said: "We thought rather than just going for a tree or a bench or something we'd do a fitting memorial to the lads who lost their lives at Kellingley."
Mr Hartshorne said the sculpture, which depicts a miner working on a pit face, would be a "timely reminder to the men who pass it every day of the dangers still involved with miners today".
NUM members have taken part in sponsored cycle rides, walks, rugby matches and auctions to raise £14,000 towards the £18,000 memorial.
Mr Hartshorne said they were still trying to raise the remaining £4,000 needed to pay sculptor Graham Ibbetson.
Ian Cameron's daughter Charlotte said her family thought the sculpture was a "really nice idea".
She appealed for anyone who wanted to donate money towards the sculpture to get in touch with the NUM's Kellingley branch.