Contaminated water tankers stolen in North Yorkshire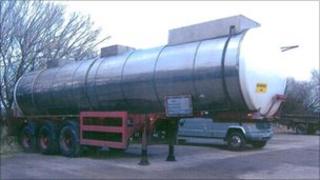 Four tankers containing thousands of litres of contaminated water have been stolen from North Yorkshire.
The tankers contained water collected after a fire at the BCB hazardous waste plant in Tockwith on 11 August.
The tankers were being stored in a secure compound until the water could be treated and were taken between Friday afternoon and Monday morning.
Police fear the thieves may have dumped the water, which could contain hazardous chemicals.
The Tockwith plant treated and disposed of hazardous and non-hazardous industrial waste.
A North Yorkshire Police spokesman said it was not known which chemicals were in the tankers because records had been destroyed in the fire at the BCB plant.
There had been no reported sightings of the four tankers, which each contain 30,000 litres of water.
Police officers are working with the Environment Agency on the investigation.
Environment Agency spokesman Peter Stevenson said: "If the thieves are planning to sell on the tankers they would be looking to dump the contents, perhaps down a drain or into a watercourse.
"We would urge anyone who has seen any such suspicious activity to alert the police."
Pc Andrew Budimir, of the Harrogate safer neighbourhood team, said: "The theft of the trailers will have required the use of a separate cab.
"If anyone saw one being driven in the area or saw anybody acting in a suspicious manner at the time I would ask them to contact me as soon as possible."