Restoration work for 1781 Skipton-on-Swale bridge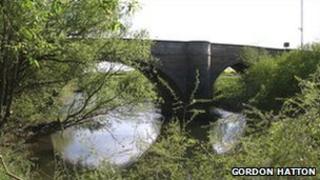 A 230-year-old bridge in a North Yorkshire village is to be restored to its original condition.
The bridge, which was built in 1781 and carries the A61 over the River Swale at Skipton-on-Swale, will be closed for eight weeks while the work takes place.
Engineers from the county council have consulted English Heritage while planning the restoration.
The work involves the removal and replacement of extensive sections of heavily-weathered masonry.
Diversions for motorists will be put in place when the work begins on 11 October.
The council said "every attempt will be made to maintain access to properties and businesses" and it apologised for any inconvenience caused.
Councillor Gareth Dadd, executive member for highways, said architect John Carr, who designed the bridge, "left the county with a legacy of many beautiful, historic bridges".
He said: "Crossing the Skipton-on-Swale bridge will be like stepping back in time, when the work is finished it will look as it did when John Carr first built it, but structurally it will be designed to withstand the demands of 21st Century traffic.
"We hope this essential work will make the bridge good for another 200 years."