WWI medals theft in York branded 'shameful'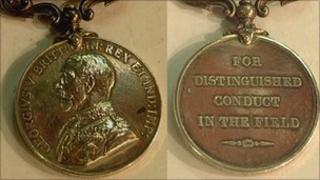 Police have described as "shameful" the theft of World War I medals from a house in York.
Burglars took the medals after distracting the owner at his home in Malton Road last Thursday.
The medals taken were the Distinguished Conduct Medal, issued for gallantry, the 1914-15 Star, the British War Medal and the Victory Medal.
Det Con Mike Avison, of York CID, said: "This is a shameful crime which left the victim feeling extremely upset."
The medals that had been awarded to the homeowner's uncle for his service during World War I.
Mr Avison said: "I urge anyone who knows anything about this despicable offence to contact me as soon as possible so that we can reunite the rightful owner with his treasured possessions and bring the offenders to justice."
As well as the medals, the burglars also stole a silver teapot, a gold wristwatch and a gold pocket watch engraved with the name John Butler.
The man who visited the house said his name was James. He is described as being white, about 5ft 11in with a medium build and brown hair.