Tockwith waste company fire 'not deliberate'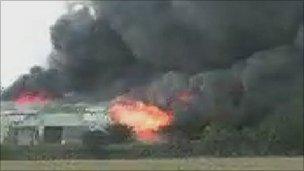 A fire which destroyed a North Yorkshire waste management firm was not started deliberately, police have said.
The fire destroyed BCB Environmental Management Ltd's premises in Tockwith on 11 August.
The firm made 33 of its 37 staff redundant before appointing Sheffield's P&A Partnership as administrators.
Police said the cause of the fire was still unclear. Officers are also continuing to investigate the theft of four tankers from the site.
The plant treated and disposed of hazardous and non-hazardous industrial waste.
The tankers, which were taken between 17 and 20 September, contained thousands of litres of contaminated water.
Police fear the thieves may have dumped the water, which could contain hazardous chemicals.
The Health and Safety Executive is also investigating the cause of the fire.
Related Internet Links
The BBC is not responsible for the content of external sites.