York university's £750m campus expansion opens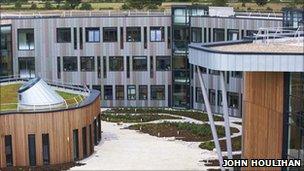 The first part of a £750m campus expansion at the University of York has opened to students.
The Heslington East development has new accommodation for the Computer Science, Theatre, Film and Television, and Law and Management departments.
The university said the extension could result in a 50% increase in student numbers to about 16,000 and create up to 2,000 new jobs.
The campus was approved by the government and city council.
Hundreds of residents had objected to the proposal, citing possible impacts on roads, crime, noise and pollution.
The university's vice-chancellor, Professor Brian Cantor, said: "The campus expansion will enhance the student experience and contribute socially and culturally to the community."
The second phase of the development will include student accommodation, academic buildings and a sports village with a community swimming pool and all-weather sports pitches."
Kersten England, chief executive of the City of York Council, said: "The University of York is rightly regarded as one of the best universities in the world and the new campus developments will ensure that it can further develop its reputation for excellence."
Related Internet Links
The BBC is not responsible for the content of external sites.