Spending Review: Cuts will see fewer police on streets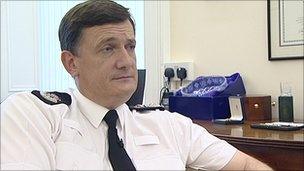 Looming government spending cuts will lead to fewer police on the streets of North Yorkshire, the county's chief constable has warned.
The county's force expects budget cuts of about 25% over the next four years.
Grahame Maxwell said the budget restraints would probably mean no new police officers would be recruited in North Yorkshire for three years.
He said: "You cannot make a 25% reduction in your budget without affecting front-line service delivery."
He added: "The public will see reduced levels of policing."
Mr Maxwell said back office services, including personnel, finance and IT, would have to be run on a regional basis in collaboration with colleagues in the West Yorkshire, South Yorkshire and Humberside forces.
"It is going to be a very different service and we are going to have to think differently about how we are going to deliver it."
Related Internet Links
The BBC is not responsible for the content of external sites.