Malton Hospital ward closure plan 'dishonest'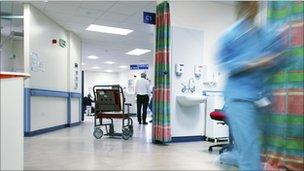 A health trust has been accused of acting dishonestly over plans to close a North Yorkshire hospital ward which has undergone a £1m refurbishment.
Malton Hospital's Ryedale ward reopened this year after the work, which was partly funded by charitable donations.
NHS North Yorkshire and York said the closure was part of plans to treat more patients in the community.
Conservative MP Anne McIntosh said the trust had not consulted the public over the plan.
The MP for Thirsk and Malton said: "I believe the trust has acted dishonestly."
She added: "This has gone from a pilot to a major reconfiguration... If you're going to have a closure you should have a consultation."
The 22-bed ward reopened six months ago after a £1m refurbishment, of which £250,000 was donated by the hospital's League of Friends.
Earlier this month the trust announced a number of beds on the ward would close as part of "enhanced community services" - a plan to allow more patients to be treated at home rather than in hospital.
Following a meeting with the health minister, Ms McIntosh discovered the trust intended to close the ward completely.
Dr Michael Lynch said neither he nor colleagues in Ryedale had been consulted on the changes.
"The ward will be closed next week I'm sure," he said.
"In fact the ward has been closed to all intent and purposes for a week.
"There's been no admissions for a week at all and patients have had to go to York and Scarborough for admission and haven't been able to come back to Malton Hospital for rehabilitation."
Janet Probert, managing director of community health services, said the rest of the beds would close temporarily from next week depending on how many patients were still there.
She said staff would be transferred into the community as part of a pilot scheme which would be reassessed after the winter and a consultation would then be held.
Related Internet Links
The BBC is not responsible for the content of external sites.