Council writes to health secretary over ward closure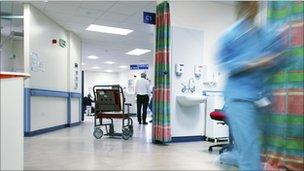 North Yorkshire County Council's health committee is writing to the health secretary over plans to close a ward at Malton Hospital.
The health scrutiny committee will raise concerns in a letter to Andrew Lansley over what it says is a "lack of consultation" about the decision.
It is also alarmed at plans to reduce beds at Whitby Hospital.
NHS North Yorkshire and York said the closure was part of plans to treat more patients in the community.
A spokesman added that the move to close the Ryedale ward at Malton Hospital and cut the number of beds at Whitby were pilot schemes, which would be evaluated in April 2011.
The Ryedale ward recently underwent a £1m refurbishment.
Chair of the health scrutiny committee, Jim Clark, said it had unanimously voted that he should write to Mr Lansley "expressing the concerns of the people in North Yorkshire about the future of these hospitals".
"These pilots have been carried out without any proper consultation with patient groups, GPs or staff - all the people most closely affected by the closures," he added.
Related Internet Links
The BBC is not responsible for the content of external sites.