Police release York attack victim photo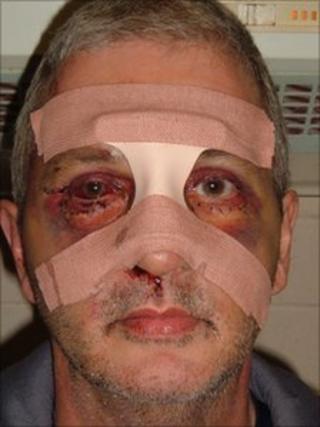 A man suffered serious facial injuries when he was attacked as he cycled home from work in North Yorkshire.
Police have released an image of Ralph Ensbury's injuries to encourage anyone with information about his attack to come forward.
Mr Ensbury, 52, was beaten as he cycled towards Yearsley Bridge in York in the early hours of Sunday.
Police said the attack was unprovoked and "sickening" and Mr Ensbury had needed extensive hospital treatment.
'Search your conscience'
Mr Ensbury said: "I just can't understand what would make a person attack me like this and leave me with these injuries. I haven't done anything wrong to them."
Det Con Alan Williams, of York CID, said: "This is one of the most sickening assaults that I have had to investigate and I can find no reason or motive for such an unprovoked attack.
"Someone knows the person who is responsible and I would urge them to look at these injuries, search their conscience and give me a name of that person.
"The victim is still very shaken up by this incident but has bravely allowed us to show his injuries to help trace the person responsible."
Mr Ensbury's attacker is described as white, about 6ft tall and thin.
He was wearing dark trousers and a black hooded top with the hood raised and was walking a medium-sized dog.