Hitler costume council leader suspended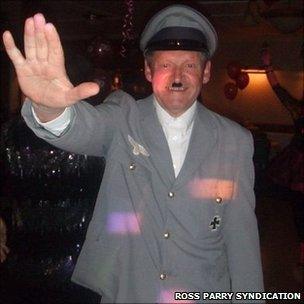 The leader of Harrogate Borough Council has been suspended from the Conservative Party after being photographed dressed as Adolf Hitler.
Mike Gardner, who was pictured giving a Nazi salute at a fancy dress party, said he had done "nothing wrong".
He has vowed to remain as leader of the Conservative-controlled council, serving as an independent.
Conservative Party headquarters said he had been suspended pending an investigation into his conduct.
Asked why he had chosen to wear the Nazi-style uniform, Mr Gardner said: "It's one of those situations, you had to be there.
"There was nothing wrong, it was just good fun. I was at a fancy dress party, it was nothing more."
He said the Conservative Party's decision to suspend him had been "very improper".
The images were taken from a Facebook page, which Mr Gardner said was a "total violation of my privacy".
He said: "I am a councillor who represents the people, politics is not my thing, serving the people is my game.
"I am disgusted about what the Conservatives have decided to do.
"I serve the people of Harrogate and serve them very well actually.
"If I have gone wrong I will apologise now to the people of Harrogate, if I have offended them in any way."
A council spokesman confirmed that Mr Gardner was still leader but nobody from the local authority was available for further comment on Friday.
Related Internet Links
The BBC is not responsible for the content of external sites.