Man jailed for disabled man's murder in Scarborough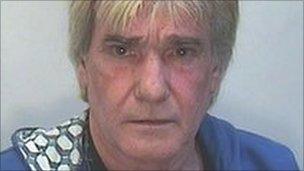 A man has been jailed for life for murdering a 62-year-old disabled man in his Scarborough home.
Alan Atkin suffered severe injuries to his face, head and body in the attack by 29-year-old Ricky Gelardo.
Gelardo, of Lismore Road, was convicted at Leeds Crown Court and ordered to spend at least 17 years in prison.
A police investigation was started after Mr Atkin, who used a wheelchair, was discovered in his Swan Hill Road home on 21 April.
North Yorkshire Police said Mr Atkin was a well-known figure in Scarborough and regularly socialised in the town centre.
Det Ch Insp Alan Carey of North Yorkshire Police said: "Ricky Gelardo carried out a brutal and sustained attack on Alan Atkin which caused his death.
"It is very hard to comprehend how anyone could inflict such violence on another person, let alone on a defenceless, wheelchair-bound man."
He added that Gelardo, who is from Darlington but had been living in Scarborough in the weeks before the incident, had attacked his victim shortly after meeting him for the first time.
"For no apparent reason, Gelardo appears to have taken exception to something Mr Atkin said and subjected him to a violent attack before leaving him to die on his living room floor."
In a statement released through police, Mr Atkin's children, Lana and Karl Atkin, said: "We are very happy and relieved that our father's killer has been brought to justice. The way his life way taken away was horrific and we just hope he can now rest in peace."
Related Internet Links
The BBC is not responsible for the content of external sites.