Business threat in Yorkshire Dales bus cut plan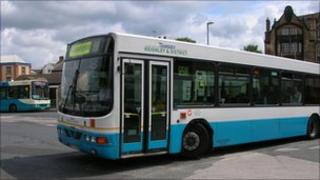 Plans to scrap a bus service in the Yorkshire Dales could cause businesses to suffer, it is feared.
North Yorkshire County Council is proposing to withdraw funding for all evening and Sunday bus services in the county from next April to save cash.
This would include cuts to the Dales Bus service, which operates in the most rural parts of North Yorkshire.
Ray Wilkers, who helped set up the service, said if it was stopped businesses would "dramatically suffer".
The council currently spends £6.5m a year on financial support to public transport services.
'Cause inconvenience'
Around a quarter of the county's bus network, carrying more than four million passengers a year, is funded by the authority.
Now the council is proposing a reduction of £600,000 in the amount allocated to supporting public transport.
Mr Wilkers said: "The council has to make severe budget cuts and what they've said is they're going to concentrate on preserving journeys to work and scrapping evening and Sunday services in rural areas.
"Sunday is the busiest day for most rural businesses and there are people who work on Sunday.
"We have approximately 60,000 people a year travelling into the area, spending a lot of money. If all that was stopped businesses would suffer dramatically."
Councillor Clare Wood, executive member for passenger transport, said: "We recognise that these reductions will cause inconvenience to people who use the bus services, but by doing this we will be able to maintain a weekday daytime network which provides essential access for as many citizens as possible."