North Yorkshire playground scheme funding secured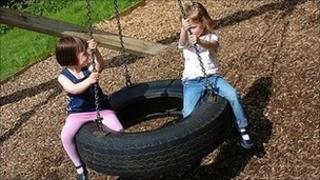 More than £1m has been secured for new play areas in North Yorkshire despite fears the funding would be axed as part of government cuts.
The council has already completed 13 new play areas but 17 more parks will now be revamped.
Earlier this year there were concerns the money would be scrapped as part of the government's Spending Review.
The county council is one of only 20 councils nationally to secure all funds for the Playbuilder project.
The authority said a decline in opportunities for free outdoor play was a "major cause of poor physical fitness, soaring obesity levels and a range of social and emotional problems for children and young people".
Councillor Caroline Patmore, who is responsible for children's services, said: "It is great news for our county in amongst other less pleasing news.
"We hope that generations of children to come will benefit greatly from what we have started here."
Areas getting the new play areas include Applegarth Park in Northallerton, King's Close Play Park in Catterick, Cononley Village playing field and Filey Country Park.